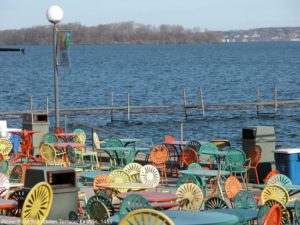 The Memorial Union is such a well-known campus institution that it needs no introduction here. One of the oldest student unions in the nation, the first phase of this building's complex construction history was completed in 1928, and it has grown by accretion in subsequent decades.
For many who walk or bike the Lakeshore Path and explore the Lakeshore Nature Preserve, the Union Terrace is often the start or end of a long journey, so although the path may seem to start at the Hasler Limnology Lab, the spiritual and symbolic terminus of the Lakeshore Path is in fact Memorial Union and its famous terrace.
The view from this famous campus watering hole looks out across University Bay to Picnic Point, so that the midpoint of the Lakeshore Path is visible as you sit here contemplating whether you might possibly be up for a long hike today.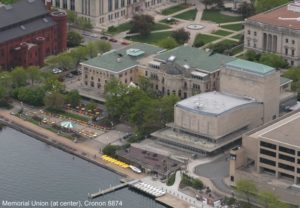 UW-Madison has a handful of landscapes and views that so define the campus as to be almost its signatures: Bascom Hill, the Union Terrace, Observatory Hill, and the tip of Picnic Point.
Every single one of these is connected to the Lakeshore Nature Preserve, which guarantees that the university and its community will be forever joined to the green spaces that surround and sustain them.
Read more about the Memorial Union's Terrace and its history…
See the program for the 1928 dedication of the Memorial Union…