Preserve Hours
OPEN 4 AM – 10 PM daily
Parking lots are open from 4 AM – 10 PM.
Vehicles parked beyond this time may be ticketed.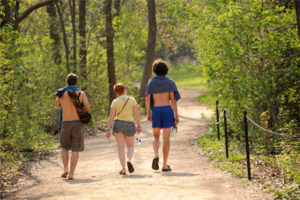 We want you to enjoy your visit to the Lakeshore Nature Preserve. Please keep in mind that the Preserve's mission is broad; it shelters plant and animal communities for teaching and research, provides space for environmentally sensitive recreation, and protects sacred Indian burial sites. By following the regulations below we can ensure that everyone will have a safe and enjoyable visit.
Stay on marked trails.
No collecting or picking of plants, wood, stone, earth, or animals [UWS 18.06].
Dispose of waste in receptacles provided at each fire circle.
Dogs are permitted on a leash which is physically controlled by the individual responsible for the animal. Pick up and properly dispose of waste [UWS 18.08(1b)].
Only authorized vehicles permitted. Unauthorized vehicles include but are not limited to motorized skateboards, recreational scooters, and hoverboards.
Bicycling is not allowed on any interior trails including the main Picnic Point path or paved service roads. Biking is only allowed on the following designated bicycle paths–the Howard Temin Lakeshore Path from the Limnology Building on the east to Oxford Drive on the west in Shorewood Hills, and on the paved path that passes through the woods from the Temin Lakeshore Path to the intersection of Lake Mendota Drive and Eagle Heights Drive. Bike racks are available at all parking lots, at the Lakeshore Residence Halls, and at several locations along the east end of the Temin Lakeshore Path.
Alcohol is only allowed for university sponsored events with an approved Alcohol Beverage Service Permit. [UW Facility Use Policy P-7.1]. Use this information to complete the application.
The use of tent or canopy stakes or anything that disturbs the ground is not allowed because of the need to protect the archeological integrity of the Preserve.
No camping [UWS 18.07(4)].
No slacklines, hammocks, or rope swings allowed. [Read the policy]
No hunting, trapping, or disturbing animals.
Amplified sound is not allowed; please respect the quiet ambience appreciated by other users.
Drone use for recreational/hobbyist purposes is not permitted on UW-Madison premises. UW-related education/research purposes may be eligible with approval under the Research Vehicle Safety Oversight (RVSO) Policy.
Posed or formal photography is allowed as long as photographers follow all visitor etiquette and photography guidelines.
Fire Circle Etiquette
Fires are only allowed in designated fire circles.
Wood is provided for free at racks found between fire circles. Please be conservative with wood use.
Do not bring wood into the Preserve; it may harbor destructive insects or diseases.
Do not collect wood from the Preserve to burn; woody debris is essential for healthy woodlands.
Each fire circle is equipped with a cooking grate.
Charcoal and charcoal grills are not allowed.
Catered events are not allowed.
Vehicles may not be used to transport people or supplies to fire circles. The main Picnic Point path is wheelchair accessible.
Never leave a fire unattended. To extinguish your fire: 1) stop adding fuel; 2) let the fire burn down; 3) douse remaining fire with water; bring a container to collect lake water for this purpose; 4) Stir the ash and embers; 5) Remember–if it's too hot to touch, it's too hot to leave.
Fire circles are intended for University and personal use. Businesses or non-University of Wisconsin organizations wishing to hold a public event will require further authorization. Contact the Preserve Interim Director for more information: lakeshorepreserve@fpm.wisc.edu or 608-265-9275.