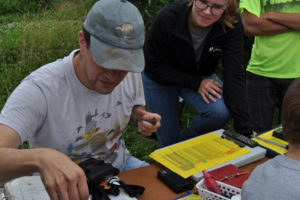 If you teach classes in the Preserve, please complete the form below to register your activity. This includes one-time, short-term, or long-term (more than 1 year) passive observation or data collection from trails and roads. Please re-register your activity each semester/summer session you use the Preserve. Please allow up to 1 week lead time for acknowledgement.
If you plan to conduct research in the Preserve please complete the form below to apply for a research permit. Approval is required for projects that involve the collection of organisms; off-trail trampling or minor disruption; changes to vegetation, animals, soils, or hydrology; or long-term use (more than 1 year). Please allow up to 2 weeks lead time for approval.
You will need the following information to complete the application:
Teaching/research description
Possible impacts and precautions
Desired teaching/research location
List of unattended equipment
Vehicle information (if requesting use)
Supervising instructor/advisor contact information (if applicable)
This information will be used to coordinate management, teaching, and research efforts.
Please review the Teaching and Research Policy before completing the form. Fill out the following form as completely as possible. When it is completed, hit "Submit permit application". After the page refreshes, please scroll down to confirm the application was submitted successfully.