Preserve Hours
OPEN 4 AM – 10 PM daily
Parking lots are open from 4 AM – 10 PM.
Vehicles parked beyond this time may be ticketed.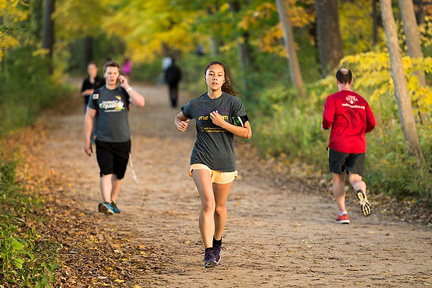 Walking and Running
Visitors are encouraged to explore the many trails of the Preserve between the eastern boundary near the Union Terrace and the western boundary in Eagle Heights Woods—12 miles in all! Print a trail map. Please remain on marked paths to prevent trampling, erosion, and disturbing research. Please be courteous to other users. When walking or running in groups, avoid blocking the trail. You may encounter the occasional work vehicle on service drives used by staff and others conducting research in the Preserve.
Organized Runs/Walks
Organizing a charity run or walk? Have a team looking for a regular route to run? The Howard Temin Path may be used for running and walking events–however all events must be permitted and adhere to our guidelines. Permits allow us to minimize conflicts between users and protect the teaching and research mission of the Preserve.
Bicycling
Biking is allowed on designated paths only–the Howard Temin Lakeshore Path from the Limnology Building on the east to Oxford Drive on the west in Shorewood Hills, and on the paved path that passes through the woods from the Temin Lakeshore Path to the intersection of Lake Mendota Drive and Eagle Heights Drive. Bicycling is not allowed on any interior trails including the main Picnic Point path or paved service roads. Bicycle racks are available at all parking lots, at the Lakeshore Residence Halls, and at several locations along the east end of the Temin Lakeshore Path.
Dog Walking
Dogs enjoy nature too! Dogs are permitted in the Preserve as long as they are on a leash which is physically controlled by the individual responsible for the animal. Pick up and properly dispose of waste.
Bird and Wildlife Watching
There are many places to observe birds and other wildlife. University Bay is a popular place to view migrating water fowl in spring and fall. Read about Birds of the Preserve and download a Bird Checklist. For guided walks, check the Events Calendar.
Field trips/Guided Nature Walks
Free public walks are one of the most valuable contributions the Friends of the Lakeshore Nature Preserve make to the Preserve. They have been organized every spring and fall for over 10 years on various topics and are led by Friends volunteers. Many are professional naturalists and emeritus faculty and staff. The Friends also partner with other environmental organizations for field trips.
Reserve a Fire circle and have a picnic
Have a picnic on Picnic Point; it is after all how the place got its name! There are several lawn areas along the main Picnic Point path to lay out a blanket for a meal al fresco. Or reserve a fire circle to roast your own brats or s'mores.
Canoeing, Kayaking, and Stand Up Paddling
Visiting the Preserve by canoe has long been a popular adventure. The Narrows, midway on the peninsula, is a convenient landing and portage spot. Beaching is allowed on sandy areas on the north side of  Picnic Point; tying of boats to trees is not allowed. Canoes, kayaks, and stand up paddle boards can be rented from Memorial Union's Outdoor UW program. A City of Madison maintained boat launch is located at Lot 60.
Winter Recreation
Winter is a wonderful time to explore the Preserve by ski or snowshoe. The trails of the Preserve go quiet and still right after fresh snow fall. Outdoor UW rents snowshoes; for rental information contact outdooruw@union.wisc.edu or 608-262-1630. Please note, trails are not groomed for skiing. Off-trail snowshoeing, hiking and skiing is not permitted.