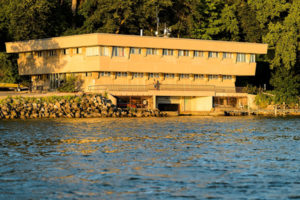 The Hasler Laboratory of Limnology (or Hasler Lim Lab) is is a working research station on the shores of Lake Mendota within the University of Wisconsin campus. Serving as a base of operations for the southern lakes research projects and the river ecology programs, it additionally serves as the administrative home for Center for Limnology and the Limnology and Marine Sciences Graduate Studies Program.
The UW Board of Regents officially named the building for Arthur D. Hasler in 2005, however, construction began on the building in 1958 and was finished in 1963. Cantilevered over Lake Mendota, the Hasler Lim Lab provides office and laboratory space for various projects at the Center. One defining feature of the building is the drive-in slip in the basement, providing direct access to Lake Mendota.
The laboratory also serves as the "Eastern Gate" for the UW Lakeshore Nature Preserve, a campus natural area which was near and dear to Arthur Hasler.
Learn more about the Hasler Limnology Laboratory…
Learn more about the history of limnology in the waters of the Lakeshore Nature Preserve…