By Jackie Sandberg, Biocore Bird Banding Observatory Volunteer and Wildlife Rehabilitation Training Supervisor, Dane County Humane Society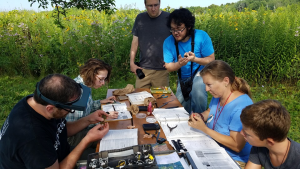 The Biocore Prairie Bird Observatory is a volunteer banding operation located in the Lakeshore Nature Preserve. Each Saturday morning from April to October, during the prime bird migration and breeding months, volunteers open mist nets to capture, identify, measure, band, and release songbirds that are residing in or near the Biocore Prairie. This practice began in 2001 by the late Dr. Mara McDonald (1947–2016) who's goal was to study localized changes in avian species diversity and their use of restored prairie habitats. Prairie restoration in the Biocore Prairie began in 1997, and by 2004, evidence suggested that bird species diversity had significantly increased with more tall grass prairie that became available. From 2001 to 2011, over 2,000 birds were banded and released from the Observatory; the most common species caught were Song Sparrows, American Goldfinch, Gray Catbirds, Common Yellowthroat Warblers, and White-throated sparrows.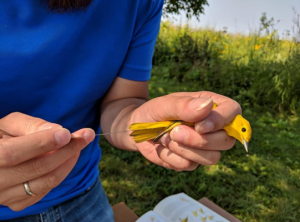 McDonald established the Observatory not only to study birds, but also to teach students and the public about ecological principles, research methods, and local species biology. After McDonald's passing, her primary sub-permit holders and mentees (Jackie Sandberg, Matt Hayes, and Yushi Oguchi) came together to continue her work under the direction of a new master bird bander, Dr. Mark Berres. His expertise and enthusiasm has been instrumental to continuing these practices, and it has allowed for banding to continue in the Biocore Prairie. In 2019, 292 songbirds were captured and banded over 19 banding dates at Biocore Prairie Bird Observatory. Twenty-five of those individuals were re-captures (i.e. previously banded), over 50 different avian species were caught in the nets, and the highest banding record in one day included 48 birds. All this was accomplished with the help of 14 regular and 38 new volunteers. Banding operations were observed by over 50 public visitors. It will be amazing to see how many and what species of birds are recorded by our 20th year of operations in 2021, which isn't so far away!