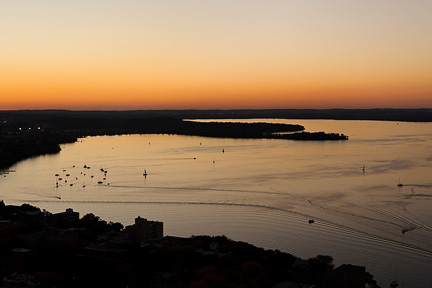 University Bay is often described as the part of Lake Mendota south and west of an imaginary line linking the tip of Picnic Point and the Memorial Union Terrace.
The bay was once much larger, extending west to where University Bay Drive is now located and south to the glacial ridge where the Forest Products Lab now stands. This western part of the bay eventually became isolated from Lake Mendota with the formation of a sand bar composed of lake sediments deposited by wave action.
The same geological processes continue today. The Lakeshore Path between Willow Creek and the base of Picnic Point is located on this same sandbar. Interestingly, a second sandbar is now forming offshore, caused by the same kind of wave action. This sandbar also receives sediments flowing into the lake from Willow Creek. The delta and sandbar are clearly visible from aerial photos.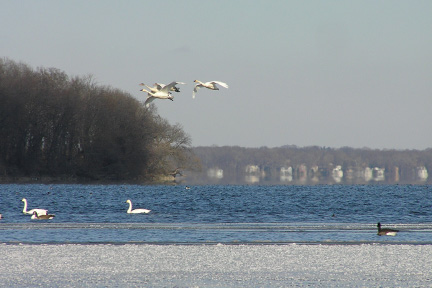 Dabbling ducks from the restored Class of 1918 Marsh visit the Bay edges and diving ducks, loons, grebes, and swans feed in the open water of the Bay during the spring and fall waterfowl migrations.
Learn more!
Read a Friends newsletter article by Roma Lenehan on "University Bay: Preservation and Change".