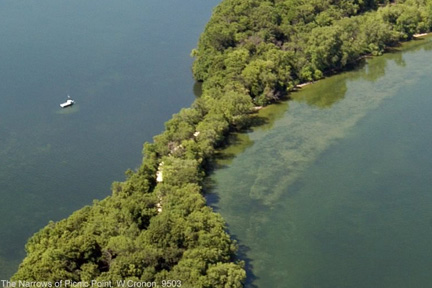 About halfway to its tip, Picnic Point reaches its narrowest width and it is easy to see Lake Mendota in both directions.
This spot used to be called "The Portage," because a paddler could with relative ease drag a canoe across to the other side to avoid paddling around the tip of the point. Today, it is familiarly referred to as "The Narrows," for obvious reasons.
If you look offshore to the south, you'll see the mooring buoy for the Limnology Lab's research vessel, the Limnos.
On the north side of the Narrows is a beach area and fire circle #3. Rustic toilets are located just to the west where the Lakeshore Path heads toward Picnic Point Beach House and Frautschi Point.