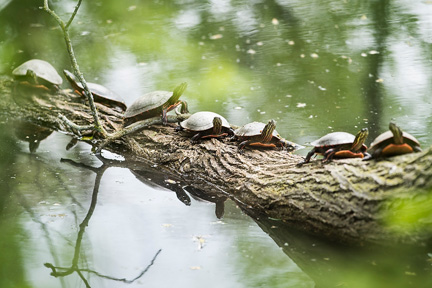 When asked about a favorite place in the Preserve, Entomology Professor Kenneth Raffa wrote the following:
"I'm not sure if this qualifies because it's such a heavily-traveled (but rarely experienced), oddly off-shooting, and environmentally-damaged section of the Preserve, but I enjoy Willow Creek because of the opportunity to observe turtles.

In the spring you can watch dozens of them, including a couple of snappers. For me, it reinforces two lessons of observing nature – that well-camouflaged things are easy to find if you 'think' like them. (Where precisely would I be on a sunny day like this if I couldn't thermoregulate?) Where precisely would I be if I were a predator? We form "search images" just like birds and other creatures do: finding the first small turtle is difficult. But after, that they just keep popping out at you.

Anyway, this dirty, heavily-fished creek with its stream of auto traffic hardly qualifies as out-of-the-way, but for me it's a great place to watch wildlife in a place you'd never expect to see them."
Coming to the Preserve to experience the birds, mammals, reptiles, amphibians, insects, and other animate organisms that make their homes here is one of the greatest pleasures and learning opportunities of this place if only you have the patience to seek out the experience.