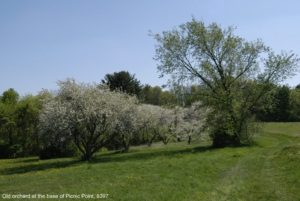 The orchard and remnant field here at the base of Picnic Point were used for agricultural purposes since the second half of the 19th century, and eventually became part of the Edward Young estate.
If you run the historic animation tool under Air Photos on the interactive map, you can observe the changing pattern of orchard trees, only a portion of which are still left – though these still bloom in the spring and yield fruit in the fall. Trees have gradually begun to reclaim the margins of this large open field, and without regular mowing, this land would quickly become covered with forest.
The future fate of this land very much depends on human management decisions about the kind of vegetation that should be encouraged to grow here.