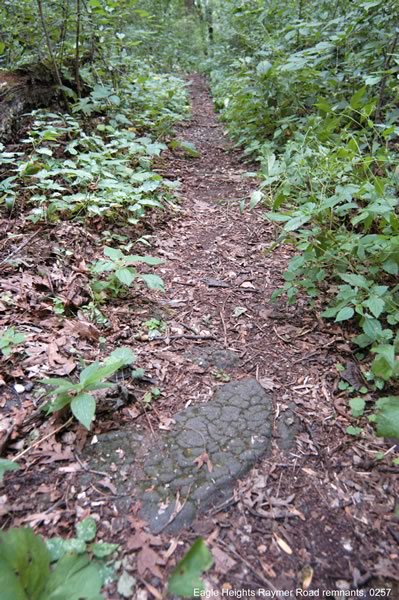 If you visit the Eagle Heights Indian mounds, you'll discover several meandering trails that encircle the top of this hill and work their way back down to surrounding Shorewood neighborhoods and to Lake Mendota Drive via gracefully arcing routes. These are the remnants of an old carriage road system first constructed by George Raymer, who owned this land in the nineteenth century and for whom a number of nearby places (most notably Raymer's Cove and Raymer's Ravine) are still named.
When George Raymer lived here, there were many fewer trees and the land was much more open, so that the view from the mounds east across University Bay to the Capitol dome on the Madison Isthmus, and north to Lake Mendota, would have been much less obstructed-much closer, indeed, to the savanna vegetation that probably characterized this land when these mounds were built more than a thousand years ago.
Raymer constructed his carriage roads so that Madisonians could ride via horse and carriage from the downtown to visit this beautiful rural spot, contemplate the old mounds, and take in the glorious view of the lake. When the Madison Park and Pleasure Drive Association (MPPDA) selected its route for a carriage road along the lakeshore, these roads of George Raymer's were the chief destination they had in mind.
Today, with the removal of the fires that once kept down the trees on this hillside, the forest has grown in and it is much harder to see the views. (Visit in winter if you want to catch a glimpse of what this place once looked like.) But the trails still follow George Raymer's nineteenth-century routes, and you can even find more material evidence of the road system that he and the MPPDA constructed here. Some of the stone structures that supported the road can still be seen at a couple points along the trails, and if you look carefully beneath your feet as you walk, you can still find traces of the asphalt that was used sometime in the first half of the twentieth century to repave the old carriage roads.
To learn more about the history of the Eagle Heights area, see Thomas D. Brock, "Eagle Heights," Historic Madison: A Journal of the Four Lakes Region 12 (1995), 37-44.