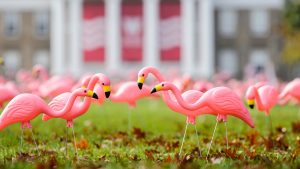 What "hatched" as a student prank has grown into a beloved tradition. Now, get ready for the 10th annual day of giving and goofiness! Starting at 5 p.m. on October 20, Badgers and friends around the world will fill Bascom Hill with pink lawn flamingos. For 24 hours, every gift the UW receives will add one flamingo to our fabulous flock. Join in this FUNraising tradition by supporting the Lakeshore Nature Preserve!
Gifts enable the Lakeshore Nature Preserve to protect its distinctive natural and cultural features while meeting the teaching, research, and outreach mission of the university. The Preserve also serves an invaluable role as a place for respite and well being with more than 10 miles of trails, gathering spaces, and myriad opportunities to engage with nature right on campus.
Visit uwflamingos.com anytime between Thursday, Oct. 20, at 5 p.m. CDT and Friday, Oct. 21, at 5 p.m. CDT to make a gift.
For more information about how your donation can help support the Preserve, contact the Preserve Assistant Director at laura.wyatt@wisc.edu or 608-265-9275.