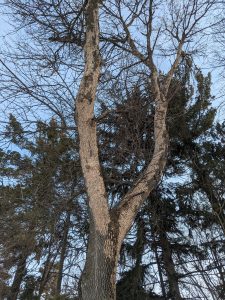 This summer, visitors to the UW-Madison Lakeshore Nature Preserve will notice some trees being cut down along trails. These are dead and dying ash trees, both large and small, that have been infested with the invasive emerald ash borer (EAB). In most locations, the dead and dying trees will fall apart and be utilized by wildlife before decomposing and contributing to the rich microcosm of life within the soil.
Where dying trees pose risk to visitors, trees will be removed. If possible, just the tops of trees will be removed with trunks left standing to provide valuable habitat.
Each tree is individually surveyed by a Certified Arborist to ensure the best decision is made regarding reducing risk to visitors.
EAB, first discovered in Wisconsin in 2008, prefers native ash within the plant genus Fraxinus. Infestation and the resulting decline and death of trees has accelerated over the last two years due to summer droughts.
For additional information contact Laura Wyatt, Preserve Assistant Director at laura.wyatt@wisc.edu.