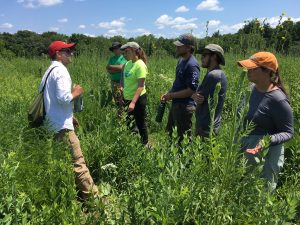 Looking for summer field experience in habitat restoration and management? Madison Audubon is hiring a total of 11 paid interns for two programs that are offered in cooperation with other local conservation groups, including the Lakeshore Nature Preserve.
Read the full job announcement for more information and how to apply.
The programs provide outstanding opportunities to learn tools & techniques of native habitat management, plant identification, and principles of restoration ecology while helping restore beautiful and productive habitats in south-central Wisconsin. The internship also includes occasional guest visits and field trips. The program has continued each season under COVID-19 safety protocols. Applicants will be considered for both programs below unless otherwise requested. Note the prerequisites and dates (in bold) differ between programs:
• Faville Grove: Six interns will work in Jefferson County at Faville Grove Sanctuary, Hope Lake Bog, and Snapper Prairie and Faville Prairie State Natural Areas. Undergraduates at any level in any field of study are encouraged to apply. Applicants must be continuing students or accepted for enrollment in Fall 2022 at a University of Wisconsin System institution. This program will run May 16-August 5.
• Prairie Partners: Five interns will work in Dane and Columbia counties at Pheasant Branch Conservancy, Lakeshore Nature Preserve, Goose Pond Sanctuary, Empire Prairies State Natural Area/Patrick Marsh Wildlife Area, and Cherokee Marsh. Students who will have at least junior standing at any college or university majoring in natural sciences are encouraged to apply. This program will run May 23-August 12.