The UW-Madison Lakeshore Nature Preserve is offering several Student Engagement Grants of up to $1,000 each to facilitate the use of the Preserve as a resource for education among UW undergraduates. Any student, faculty, or staff member at the UW-Madison may apply. Groups of individuals may also submit a proposal as a team. Every individual or team must have at least one UW-Madison faculty or staff member, who is expected to play an active role in overseeing the project.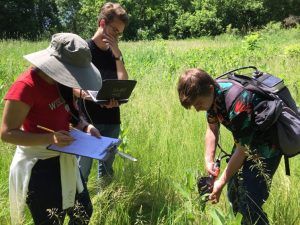 A sampling of previous projects receiving grants:
Hike and Learn Series: Engaging Diverse Students – Community Environmental Scholars Program of the Nelson Institute
Effect of Invasive 'Jumping' Earthworms on Tree Functioning in the Lakeshore Nature Preserve –Undergraduate research, Botany Department
Understanding How Nature Impacts Student Writing and Wellness – Ph.D. student research, English Department
Measuring Patterns of Seasonal Diversity of Yeasts in the Lakeshore Nature Preserve – Undergraduate research, Department of Genetics
Applications are due March 1, 2019.  Funds should be expended by October 31, 2019 when a final report is due. This funding opportunity is made possible by the Academic Endowment Fund of the Preserve, established by former UW faculty member Robert M. Goodman and the late Professor Henry Hart.
Review the request for proposals.