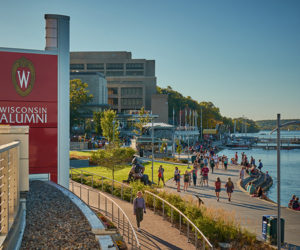 Kick off summer with a campus open house of interactive programs on the UW-Madison's East Campus Mall and along the Lakeshore Path during Wisconsin Bike Week. (All activities are free and drop-in except where indicated.)
Visit Alumni Park from 11:00 a.m. to 2:00 p.m. to experience the scents and tastes of summer. Enliven your senses with lavender demonstrations by Rebecca Powell '78, the owner of Devil's Lake Lavender Farm; nitro infusion demonstrations using locally grown herbs with artisanal chef and restaurateur Jonny Hunter '05, MPA'11; an all-ages Badger Pride Wall make-and-take art activity; a visit with a beekeeper; and free lemonade.
Try BCycle bike sharing for FREE on Saturday, June 9, courtesy of the Wisconsin Alumni Association. Use promo code 922922 at any BCycle-station kiosk, follow the prompts, and start riding! Includes unlimited, free rides of 30 minutes or less during a 24-hour period. A credit card is required for use. Rides longer than 30 minutes will be subject to usage fees.
Add to your learning and fun! Explore additional programs on campus:
Lakeshore Nature Preserve (2000 University Bay Dr.) 11:00 a.m. – 2:00 p.m. Stretch your legs on a walking scavenger hunt to the tip of Picnic Point. Participants will receive a "Preserve" button. Please note: Bikes are not permitted on the trails within the Preserve. Bike racks are available.
Chazen Museum of Art (750 University Ave.) 11:30 a.m. – 2:00 p.m. Bring your wheels by the Chazen as we use the sun as a powerful tool for art making! Create unique nature prints, clown around in our photo booth, or enjoy a fun museum tour! All ages welcome!
Allen Centennial Garden (620 Babcock Dr.) 11:00 a.m. – 1:30 p.m. Make art with chalk, enjoy a plant activity, and add to the "wish tree."
Round out your day on campus with the Isthmus Jazz Festival starting at 2:00 p.m. on the Memorial Union Terrace, next to Alumni Park.
The Howard Temin Lakeshore Path—from N. Park Street near Memorial Union on the east to Oxford Road on the west—is a great way to travel by bike from the East Campus Mall to the Allen Centennial Garden or the Lakeshore Nature Preserve.
Questions? Please contact McKenzie Zdrale at mckenzie.zdrale@supportuw.org or 608-308-5174.
All activities are subject to change due to weather.